A Kinettix Field Services Project Case Study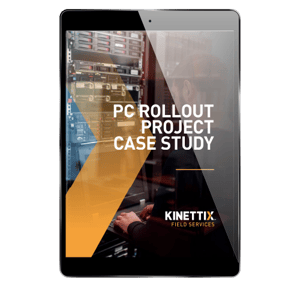 Kinettix was engaged to assist an end client in performing a Win10 upgrade to 6,000 units over the course of five months, a project that later changed in scope to 4,500 units over just 14 weeks.
Kinettix scheduled and utilized a team of technicians sourced through various nationwide platforms to work as contractors in their main facility. The team rolled out upgrades over multiple campuses as well as to remote users.
This case study outlines how Kinettix completed this project. Download it to see:
The complete project schedule

Detailed team resources and responsibilities

Logistics provided by Kinettix